World-renowned street artist to brighten up Bradford parks in commemoration of the First World War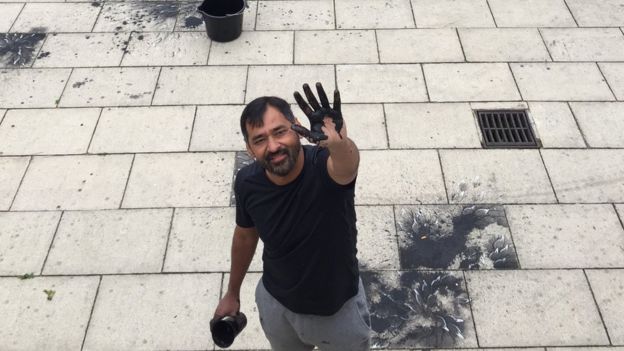 Acclaimed international artist Imran Qureshi is producing artwork to commemorate the First World War in two of the busiest areas in Bradford, City Park and Lister Park's Mughal Gardens.
Qureshi is trained in the skill of miniature painting and has pushed the boundaries of this tradition by creating a garden within a garden. Referring to the Mughal Gardens, Qureshi explains that they are a.. "garden within a garden and my work is a garden within that garden – it's a bit like Russian Dolls, with the gardens fitting inside each other."
In Lister Park he has used the geometric pattern of the paving slabs as a basis to start his work and then changed the symmetry of the garden to represent a different narrative of the various cultures in Bradford. Using black to represent the bomb blasts of WWI Qureshi added finely-painted flowers emerging from the cracks to symbolise regrowth. The subtle introduction of red paint to the Mughal Water Garden artwork was incorporated into the design. Qureshi says this was influenced by the recent tragic murder of Batley and Spen MP Jo Cox and echoes the terrorist bombings in his home town of Lahore, and the Boston bombings.
In City Park Qureshi worked within the confines of a circle and used pale blues and whites to create another water garden to link with the popular Mirror Pool and the Mughal Water Garden. His trademark foliage in the style of miniature painting has graced many cities including New York, Sydney and Toronto and Bradford is honoured to be one of this number.
Garden Within A Garden has also enabled seven local artists to
respond to Imran's work and the World War 1 centenary, creating new works in multiple media and working with local school and community groups.
Dipak Mistry captures Bradford's 'hidden' memories of WW1 in his photographic series. Christella Litras and Rob Green's musical and vocal compositions present heartfelt echoes of the loss incurred in conflict. Qashif Mahmud's wood carvings incorporate woods from around the world, united in one sculpture as a symbol of unity. Zareena Bano, Razwan Ul Haq and Musarat Rahman worked closely with Bradford groups to create nine banner designs which can now be seen in Lister Park.
All the local artists' works plus an informative display on Imran Qureshi will be on show in Cartwright Hall until 30 September. Imran Qureshi was commissioned by 14-18 Now, in collaboration with Bradford Museums And Galleries and Yorkshire Festival.