Ali Kazim is best known for his exquisitely layered paintings, predominantly of lone men. The portraits, simple forms set against flat, clear backgrounds or fields of earth-toned colour, are invested with a distinct tactility: multiple layers of watercolour pigment on textured paper lend the paintings a sense of low relief. This technique, of meticulous repetitive actions, results in a meditative engagement with process that adds a psychological depth to Kazim's work. His protagonists are reservoirs of mystery, absorbed in reverie, in inner places of truth and stillness.
Material is metaphor for Kazim, and in his new suite of paintings and drawings, he uses Japanese tissue and tracing paper alongside gold leaf and hair in refined explorations of the human body, this time his own. A series of delicate drawings and abstract compositions mark a new direction in the artist's visual language.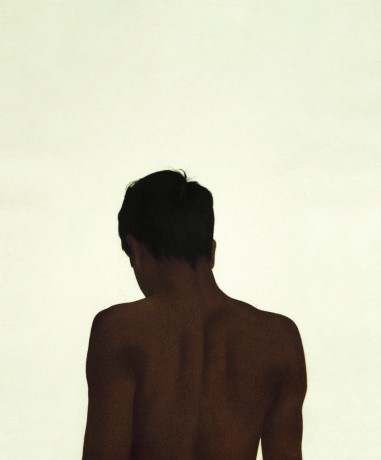 Kazim's paintings include elements of narrative and fantasy, however their primary impulse remains humanistic: to interact with another or to examine the self. Spare, profound and unsentimental, his art effortlessly transforms the quotidian into the metaphysical, drawing on the powerful themes of time, fate and memory, yet making them entirely his own.