by Valerie Behiery, Islamic Art historian, Ph.D.
Source: Islamic Art Magazine
"Beauty is an abstract reality that needs shape and form for its manifestation. The process of its' intentional and purposeful manifestation through form, colour, pattern and shape is what I call Art". (Fatima Zahra Hassan)

Fatima Zahra Hassan was one of the early graduates of the innovative miniature painting program established at the National College of Art in Lahore. Having mastered the age-old technique, Hassan set for herself the much more daunting task of infusing her work with the same perennial spirituality that emanates from the best of the Islamic miniature tradition. The artist explored the link between art and mysticism further while pursuing her Masters at the Royal College of Art and then Ph.D. at The Prince's School of Traditional Arts in London. Currently a professor of fine art in the United Arab Emirates, Hassan continues to paint and show her work in Europe and the Middle East. She is presently participating in "Muslima", the global online show organized by the International Museum of Women.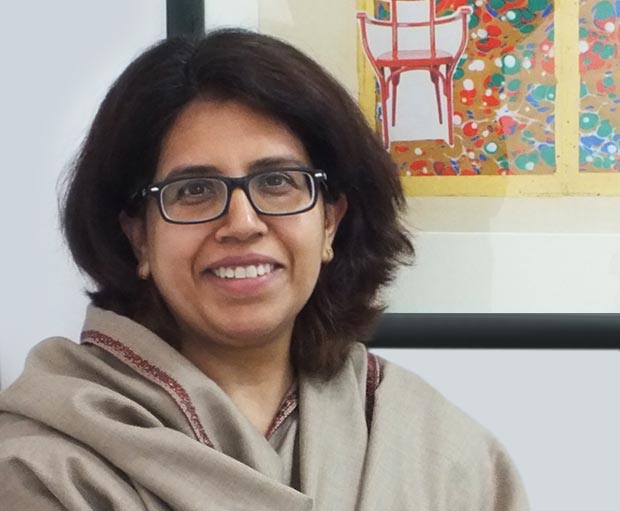 Fatima Zahra Hassan / Courtesy of the Artist
The National College of Art is now known internationally because of the many outstanding artists it has generated. You were one of the early graduates of its miniature program. Is its' success due to outstanding teaching or to the fact that the art of miniature allows students to connect with their past without turning their backs on modernity? Many contemporary artists working in the genre, including yourself, often bring to it a contemporary approach and aesthetic.
Well, I am one of those who believe that teachers should definitely get due credit for their students' achievements. I can single out Ustadh Bashir Ahmad in Lahore and Keith Critchlow and Paul Marchant in London. But it is not entirely the teaching. It is the traditional training of that very art form, which has stood the test of the time and is part of a living tradition. This particular program connects so well with Pakistan's illustrious history that students can relate to it. As an early graduate, I probably suffered the most only because I decided to follow the path, which was less travelled at the time. The trend was then to paint something that was popular and called contemporary art and apparently had more followers.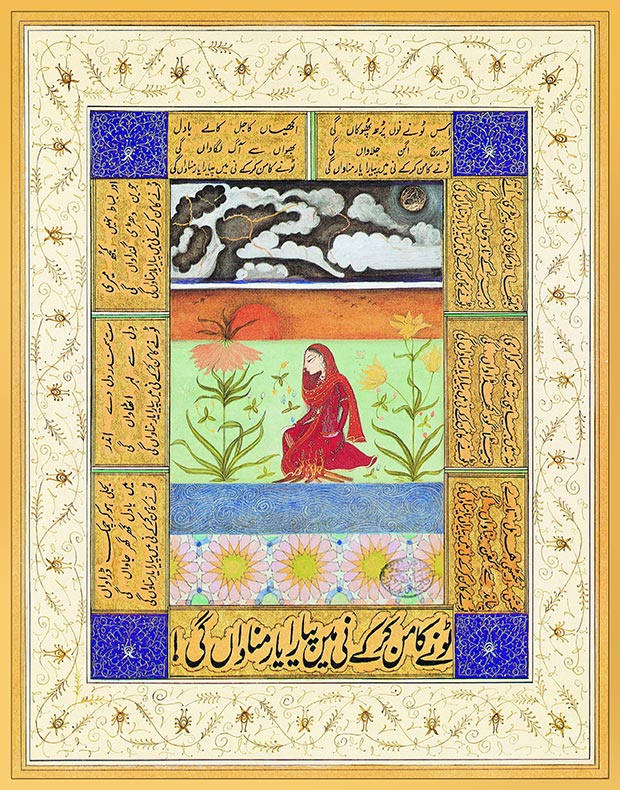 Love Charms (part of Album based on the poetry of Bulleh Shah), Water colour gouache, natural pigments, gold leaf on tea stained 'Wasli' paper, 1996/97, 8x12 inches / Courtesy of the Artist
What were attitudes like then towards traditional art forms?
Artists like me who believed in the sanctity of traditional art were far less in number. I strongly believe that modernity grows from tradition and without tradition there is no modernity… there are millions of artists who are breaking away from tradition but people like us keep it alive, otherwise it will all be dead one day and there would not be anything left for posterity. It is also difficult to practice within a discipline and strict regime and follow certain parameters. Whereas it is easier to break away! One needs more time, passion, and skill to produce traditional work as opposed to something that needs manufacturing.

read more ....