'China: Through the looking Glass' has attracted almost 800,000 visitors so far and has become the most popular fashion show ever at the Met, overtaking Alexander McQueen's 'Savage Beauty' exhibited in 2011.
Artwallaa was fortunate enough to visit this exhibition which was exceptional not only because of the beauty of the objects, its flawless curation, its impactful size (spread over 16 galleries), brilliant use of technology (with beautiful videos / music /animations), but also because it literally transports you into a fantasy old China world which all of us non-Chinese want to experience.
The exhibition closes in a couple of days. So, if you are in that nook of the world, don't miss it.
Top 10 most popular exhibits in the Met's history (The above exhibition will become a top 5 on this list):
1.'Treasures of Tutankhamun, '12/78-4/79, 1,360,957 visitors
2. 'Mona Lisa, ' 2/63-3/63, 1,077,521visitors
3.'The Vatican Collections: The Papacy and Art' 2/83-5/83, 896,743 visitors
4. 'Painters in Paris: 1895-1950,' 3/00-1/01, 883,620 visitors
5.'Origins of Impressionism, '9/94-1/95, 794,108 visitors
6. 'The Horses of San Marco, '2/80-8/80, 742,221 visitors
7.'Picasso in The Metropolitan Museum of Art, '4/10-8/10, 703,256 visitors
8.'Alexander McQueen: Savage Beauty,'5/11-8/11, 661,509 visitors
9.'Jeff Koons on the Roof, '4/08-10/08, 657,801 visitors
10. 'Doug + Mike Starn on the Roof: Big Bambú,' 4/10-10/10, 631,064 visitors
And last but not the least, Imran Qureshi's Roof Top exhibition in 2013 also had attracted close to 400,000 (395,000) visitors too (
read more on it here
).
Enjoy !
Stars Come Together for the Met Gala

with the China Exhibition theme. Source:
The Echo
-----------------------------------------------------------------------------------------------------------
'China: Through The Looking Glass' Is The Met's Most Popular Fashion Show Ever
September 5, 2015
Almost 800,000 people have seen the blockbuster exhibition, beating out the previous biggest hit on Alexander McQueen.
The first rule of creating a blockbuster exhibition is pretty simple: stop trying to create a blockbuster exhibition.

Andrew Bolton, curator of the Anna Wintour Costume Center at the Metropolitan Museum of Art, should know. His latest hit, China: Through the Looking Glass, has been his most successful and ambitious show yet. After being awarded a three-week extension, it will be taking its final bow on Monday. That's right: if you haven't joined this party, it's about time you head to the Met.
As of September 1, more than 761,000 visitors have walked the galleries of the transformed Asian Art wing and been transported into a fantasy version of China, where high fashion, movies, music, and objects of art have been combined to produce something that is more immersive performance than traditional art exhibition.

To put the show's success into perspective, the Costume Center's former biggest hit (and previously the eighth biggest show of all time at the Met), was 2011's Alexander McQueen: Savage Beauty, which was received with almost universal applause by critics and guests alike and became infamous for the length of the lines the 661,509 visitors endured. (While it was also extended, the McQueen show's final run was about a month less than current exhibit's will be.)

"We never set out to do a blockbuster," Bolton, 48, tells The Daily Beast. "I mean the McQueen show surprised us. The fact that we were so ill-prepared for all the lines shows you we weren't prepared for it."

But with Alexander McQueen, the Met was working with a designer who was not only well known and well respected within the fashion industry, but who also had name recognition outside of it.
In a way, the popularity of the current exhibit was an even bigger surprise, because it started with an exhibition name that, Bolton acknowledges, was a bit "opaque."

"The show was about a fantasy, it really wasn't about the real China, it was the China that exists as a collective fantasy," Bolton says. "By enhancing people's experiences through cinema, through music, it was a way of getting that idea across that it really was China: Through the Looking Glass, where everything is topsy-turvy and back to front and upside down…to me, it was important to transport people into this fantasy."

The show succeeds as a fantastic transportation into another world, and, at the same time, a thoughtful and complex investigation into the inspiration, creativity, and two-way dialogue between East and West.


Visitors enter the ground floor of the exhibition (the actual space of the Costume Institute) and walk into an experience that is akin to the sensory overload of a theme park; noise, color, moving images, and the brilliant, opulent visuals of ancient Manchu robes and the high-fashion looks they inspired surround viewers, resulting in a delightfully disorienting feeling. Two giant screens face each other in the middle of the large room, playing films by both Western and Chinese directors and throwing off bright, moving lights, almost like at a runway show. One little girl and her mother embraced the effect, twirling and twirling through the middle of the screens in their very own performance.

The exhibition is broken up into themed galleries that are both visually appealing and educational. Some rooms address specific aspects of Chinese culture—like calligraphy and perfume—and Chinese fashion traditions like the Manchu robe, qipao, and Chinese textiles. Others are dedicated to designers who found specific artistic inspiration in China and embraced Chinoiserie, like Yves Saint Laurent (in one of Bolton's favorite rooms). Another gallery situates a careful selection of fashion pieces among ancient artifacts that are permanently located in the space.

In each of the rooms, the objects of artistic inspiration are carefully placed side-by-side with the designs they helped inspire to create a dialogue between the two cultures. In the qipao room, for instance, Chinese-designed qipaos are lined up in a row on one side of the room, the Western interpretations inspired by them on the other.

Bolton says one of the most popular rooms is the Porcelain Room, a gorgeous and calming retreat that houses an impressive array of blue-and-white porcelain pieces in a glass case across from a striking collection of blue-and-white couture. There are gowns by John Galliano, Karl Lagerfeld, and Rodarte, among others. But a more literal crossover happens in two pieces: a sculpture by Chinese artist Li Xiaofeng takes the form of a dress made entirely out of pieces of blue-and-white porcelain and sits across from a jaw-dropping, but wearable, gown by Sarah Burton for Alexander McQueen that features a bodice made of broken porcelain pieces over a delicate, ruffled white silk organza skirt with a long train.


"I think, for the first time, we had the ability to show the source material, to show the actual references, because of the objects we have in the museum," Bolton says. "It allows you different entry points into the exhibition. So, Chinese scholars initially enter the show through the Chinese objects, and then they look at the fashion. Fashion students and fashion followers look at the fashion first and then they look at the Chinese objects…the bridge between the two has been the film."
The result of this entertaining and accessible, but still intelligent, effect has been an exhibition that has clearly struck a cord with the public.
The runaway success can be seen and felt just walking through the galleries. The word "mindboggling" escaped in English as two middle-aged men speaking a Nordic-sounding language walked through the Manchu robe room. And a young girl who was no more than four years old summed up the mood nicely when she looked at a design by Tom Ford for Yves Saint Laurent and exclaimed, "Wow, what a pretty dress! I love it!"
Looking around at the crowd, it's clear this may be one of the more diverse groups that have attended a single exhibition. Pretty much every age, gender, and nationality seems to be represented, and the excitement is palpable. Bolton says that the last time he saw this many men at one of the Costume Center's shows was the Superheroes: Fashion and Fantasy exhibition in 2008.
In addition to the diversity the show has attracted, Bolton says one of the most "heartwarming" responses is the "sense of pride that the Chinese community felt with the exhibition…that's the main reaction we've had from the Chinese community is a sense of pride in their own culture, their own history, and its impact on the West."
Bolton says it's tough to put a finger on why this exhibition took off when others haven't had quite the same response. As befits our current social media age, he says word of mouth has been key. But the exhibit is also timely.
"Obviously, China's on everyone's minds," Bolton says. "It's been on people's minds for many years, but I think that the cultural importance of China is just increasing—and the financial importance."
Whatever the reason for the influx of people, it's been a huge boon for the Met, and for the fashion side of the debate over whether fashion should be considered art.
At a September 2 book signing with Anna Wintour for the exhibition, Bolton says he met several attendees who had come from international destinations like England and Mexico solely to see the show. (He also met one man who said he had come "so far" for the event…all the way from New Jersey). And it is undoubtedly drawing in new visitors to the Met who may not have visited the museum before. They come for the fashion, but hopefully they become repeat museum-goers.
"This is actually my twentieth time coming [to this exhibit]," Andre, 19, says as he waits in line to get his book signed. Andre says he's visited the Met before; he comes "just for the Costume Center" but adds "the Temple of Dendur is pretty good too."
Bolton has had to work to convince the traditional art world—both those at the Met and the larger art press—that fashion has a place in museums. The blockbuster success of the McQueen show—in addition to many of McQueen's more sculpture-like designs, like his razor-clam shell dress—have helped create a "paradigm shift" that is more inclusive to fashion. But there's still a lot of work to be done.
"I think sometimes they see the functionality of fashion. So that when they see the pragmatics of fashion, they can't see the artistry behind it," Bolton says. "I think they need to work harder at that."
To be fair, some fashion insiders, including designers like Miuccia Prada, have been outspoken in their belief that fashion is not art. But Bolton (who thinks Prada is "one of the most important designers in the last thirty years") is firmly on the "pro" side of this debate.
"Very much [fashion is art and should be included in the art canon]. I mean not all, just as not all art should be either," he continues. "There's a lot of bad art out there. There's a lot of bad fashion out there. But when you come across fashion that is artistic, everyone responds to it."
And that is what Bolton is trying to bring to the Met: a roster of shows that will engage and excite an audience and show them the true artistry of fashion. He's not focused on creating the next Alexander McQueen: Savage Beauty or China: Through the Looking Glass—although it is nice when that happens.
"We never ever set out to create a blockbuster. It doesn't inform our judgment in terms of the shows we put on," Bolton says. Instead, he thinks about how a new show can "speak to our visitors, it has to seem relevant and timely."
---------------------------------------------------------------------------------------------------
China: Through the Looking Glass show breaks Metropolitan museum record
Chinese fashion exhibition is most visited ever at New York Metropolitan museum of art's costume institute, smashing record set by McQueen show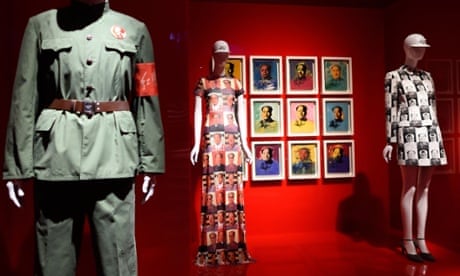 Art work by Andy Warhol and a dress by Vivienne Tam are displayed as part of China Through the Looking Glass at the Metropolitan Museum of Art in New York. Photograph: Don Emmert/AFP/Getty Images
A
New York
exhibition exploring Chinese influence on western fashion has become a summer smash-hit, attracting a record 670,000 visitors in a sign of China's growing clout in America.
There is an array of cinematic clips. The shoulders of an Yves Saint Laurent evening jacket have been picked out in the pattern on a fifth-century BC bronze vessel. The decoration on a 1950s Dior dress is inspired by Chinese calligraphy drawn from a poem complaining about a stomach ache.
China was also the theme of
this year's Met Ball
, which kicked off the exhibition and acts as the institute's annual fundraiser, the most glittering event in New York high society.
"I think China is something everybody is interested in," Hearn said. "To see how China has been an obsession, certainly a source of inspiration for centuries is something that really comes across."
After French and Spanish, Chinese is the most sought-after language at US secondary schools, he said. There is also a huge influx of Chinese tourists, who want to see how China is represented in a western museum, he added.
The US department of commerce projects visitor growth from China will increase by 172% to 3.1 million visitors by 2019.
"For the Chinese to come here and see their culture in the context of Asia and beyond, I think that's why this show must be very interesting and even provocative for them," Hearn said. "It's showing them that China has had an historical impact on the west."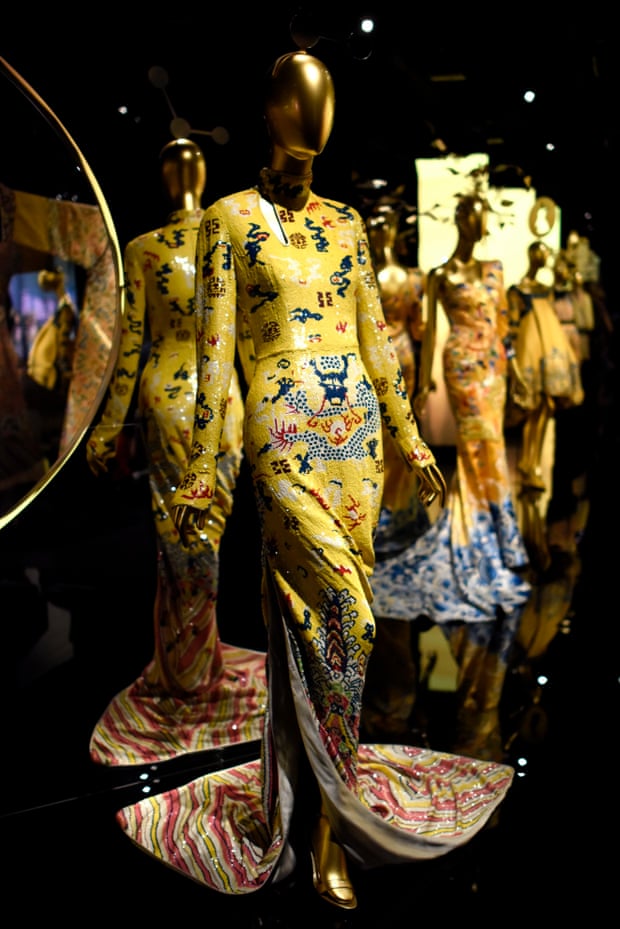 The exhibit focuses on the influence of Chinese aesthetics on western fashion and looks back at some of the history of Chinese design. Photograph: Justin Lane/EPA
The Costume Institute reopened last year, named after
Vogue editor-in-chief Anna Wintour
, who has raised more than $125m for the centre since becoming trustee of the Met in 1999.
The Metropolitan Museum of Art is New York's most visited museum, welcoming 6.2 million people last year.
China: Through the Looking Glass is so far the museum's eighth most visited exhibition in history, a spokeswoman said.